THE NEED
An on-site event needed to be transformed into an in-person, virtual hybrid event.
The On-Site Hybrid Event Need
A local boarding school had a parent's weekend event that was originally planned to be for on-site participants only. As the event approached, they received several requests for remote participation from parents who would not be able to attend in person.
Working with our client, we helped them combine some events and move others to a new location to minimize the live stream equipment requirements, while still being able to create the same experience for the in-person attendees and the remote live stream participants.
The Live Streaming Requirement
We determined that the events to be live streamed could be held in two locations. First, the informative sessions and a keynote speaker located under a tent on a lawn; and second, an outdoor theater for a nighttime performance.
For the events in the tent, the on-site and remote audiences needed to see PowerPoint presentations, hear the speakers, and ask questions live.
THE CHALLENGES
The outdoor event made screen displays, power supply, and virtual streaming challenging.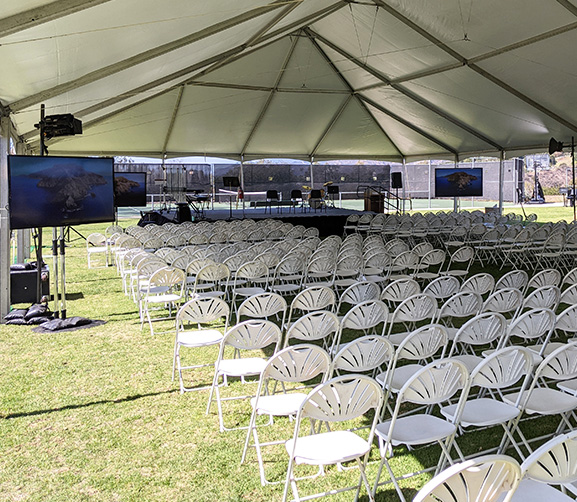 Screen Display Challenge
For the main daytime events under the tent, natural elements such as direct sunlight on screens and lighting for video were important factors that needed to be addressed. When doing presentations outdoors, an LED video wall is the preferred solution, but it has higher power requirements than other audio-visual solutions.
Power Supply Challenge
The outdoor theater required placing cameras and lighting among the arena-style seating and finding a place for our Audio-Visual set-up that had the required power – without disrupting the theater atmosphere. The limited power available was an element we had to work into our solution.
Virtual Streaming Challenge
The second location did not have internet available, so we needed to provide a mobile streaming solution. The live Question and Answer and live stream component also required cameras and lighting that needed to be set up inside the tent.
THE FINAL RESULT
We successfully implemented audio visual and technological solutions for this hybrid event.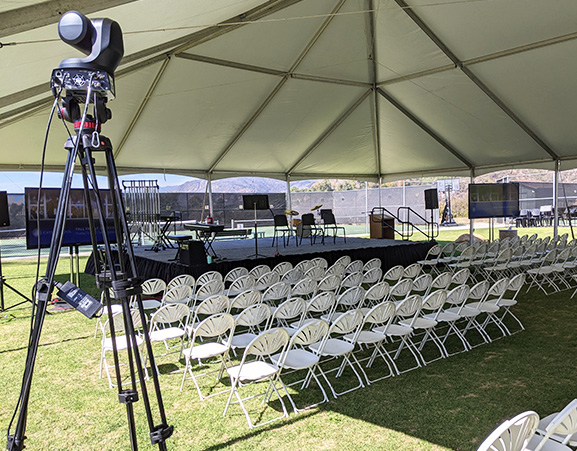 Audio Visual Success
On the day of the event, our client was pleased to see that there were more remote attendees than anticipated, validating the decision to create a hybrid event. The camera setup for both events captured clear images, and the audio solutions we designed provided clear audio of everyone on-site for the live stream.
Virtual Audience Integration Success
The Question and Answer segment had dozens of questions from both remote and on-site participants, and all of the questions and answers were heard by the group. When the events concluded, we uploaded all of the recordings to their live stream service and they got even more views after the event, making the entire project a success for everyone involved.