Video & LED Wall Services
High quality video production
Clear and bright visuals are essential to every event, whether it's a large conference or an intimate gala; making sure your audience can clearly see what your message and brand is all about is vital to the success of your event.
With our extensive inventory of projectors, LED walls, and cameras, we make sure your message is presented perfectly every time. Our professional video services include:
LED wall installation
HD and 4K projectors
Digital signage
Content distribution systems
Video projection & mapping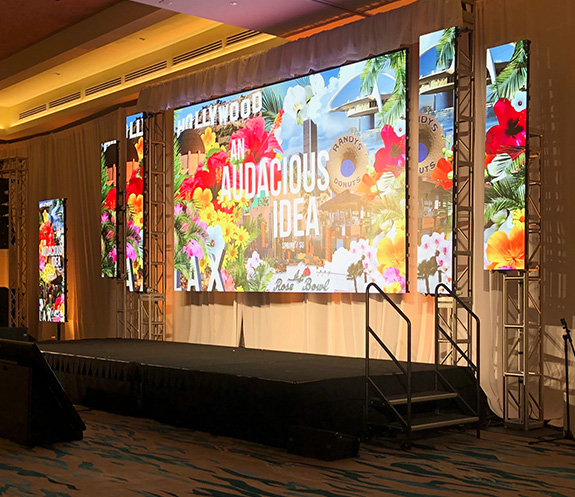 Professional Video Content & LED Walls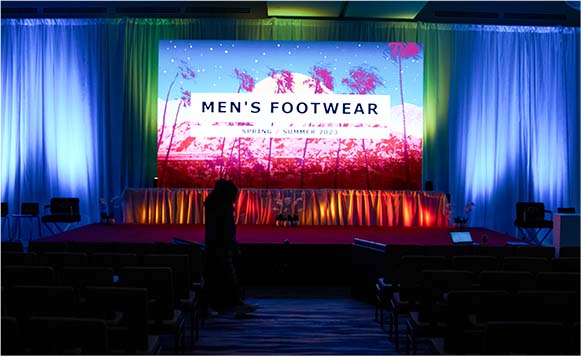 LED walls are a highly popular solution for virtual backgrounds. In our video production studio or at your location for on-site live streams, LED walls enable dynamic streams to share information; add scenery; or create a virtual backdrop – all completely customized for your individual brand.
Brighter than a projector and a visual format that presenters can walk in front of, our LED walls display content in a high resolution, easy-to-see format. Other benefits of LED walls include:
Ideal for outdoor use
High-quality, high-resolution visuals
Low maintenance requirements
Self-emitting light source
Available in different shapes and sizes
Everything You Need for High-Quality Video Content
With a wide range of HD and 4K projectors, screens, displays and LED walls, we have everything you need for high-quality video content. We can come to you – at your office, a hotel banquet event, outdoor space, or convention center – or on-site in our live stream studio.

1. Discovery Call
After you contact us, we'll discuss your project needs during a discovery call, including:
Scale of the event (plus the number of people involved)
Your exact AV needs
Project timeline and dates
Purpose of the event
Budget

2. Receive Quote
Our team will get to work putting together a comprehensive quote, including budget and technical specifications.

3. Review & Approve
We'll present the creative solution to you.

4. Implement
We'll complete the project, including delivery of the design.

5. Event Recap
Share post-event results and feedback.