THE NEED
Convert large-scale, in-person events to virtual events without losing quality and impact
The Virtual Streaming Need
One of our live event clients, a global apparel and shoe manufacturer headquartered in Santa Barbara County, has a long history of doing large-scale, in-person events for team building and company updates at their offices and in hotel conference spaces.
Their product development and sales teams also rely on in-person meetings to showcase new and upcoming products to their various distribution channels and partners.
They had already been exploring digital communications and live streams as ways to reduce travel, but in March of 2020 (due to COVID regulations) they needed to quickly convert all their business communications, both internal and with their clients and partners, to virtual live streams, and they were determined to do so without losing any of the quality and impact of their messages.
The Live Streaming Requirements
The digital communication needs for a global consumer goods company are wide ranging. The priority was to enable their product development teams to share new products with their sales teams, and in turn, for their sales teams to be able to share the finished products with their range of buyers.
This required being able to show products in crystal clear streaming technology such as Teams, Zoom, and Vimeo to live stream the content and record it for later viewing.
The secondary need was to hold live internal all-hands meetings, which were previously done live at hotel conference centers in Santa Barbara County and Ventura County, where the entire executive team would gather to provide business and strategy updates to their global workforce.
THE CHALLENGES
Quickly finding a location that works for their audio visual needs and variety of events.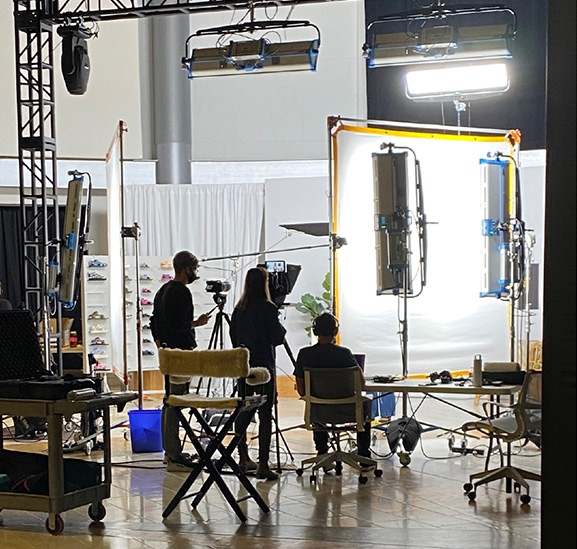 Time Sensitive Challenge
This particular project was time sensitive, as we needed to put together a solution in a matter of weeks to enable the live stream of critical business communications with high quality video and audio.
Location Challenge
First, we worked with the event management team to find a location that would be convenient for their speakers and enable social distancing but still meet the facility requirements for our technology.
Video & Audio Challenge
Once we secured a space, we came up with an audio visual technology solution that would meet the needs of all of their events at one location. That meant being able to show a wide variety of shoes and clothes in clear detail on racks, turntables, and live models, while also showing digital renderings, PowerPoint graphics, and live presenters.
For the all-hands meetings, we also needed the ability to have digital backgrounds that can change quickly and pre-record segments to be edited together with live presenters.
THE SOLUTION
Our flexible studio setup allowed for versatile, high-quality live streamed events.
Flexible, Off-Site Production Studio Solution
Designed & built a production studio at their chosen location
Curved LED wall & content monitors for flexible display options
This client needed the equipment for a several month period, and with a wide variety of live streams and product content integration into business communications. Taking these factors into consideration, we designed a small production studio that we could bring to our client and install on-site, rather than have them come to our live stream studio five days a week.
We built a ground-based truss structure for overhead lighting, audio, and cable management. An 18' by 32' curved LED wall was built to display virtual backgrounds, custom graphics, multi-view Team and Zoom calls, and product displays. Three content monitors on rolling stands provided a variety of content, including teleprompter services and live stream views for back-and-forth conversations on Team and Zoom.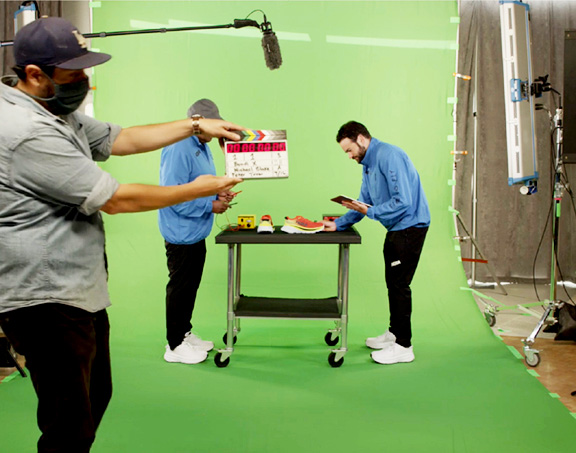 High-Quality Video Solution
Panasonic 4K, Pan Tilt, and Zoom cameras
Mobile video production studio for additional content
To capture high-quality video images of their products we used Panasonic 4K, Pan Tilt, and Zoom cameras as well as additional ground lighting on rolling stands to enable quick adjustments for each different product set-up.
To handle the PowerPoints, videos, and other content we brought our mobile video production studio, which includes camera and video switchers and NDI and SDI video distribution.
Audio Solution
Yamaha audio mixer & Shure microphone kits
Versatile, dynamic studio set-up
For capturing audio we used a Yamaha audio mixer, Shure microphone kits, and Dante distribution.
The result was a versatile, dynamic studio that truly strengthened their ability to conduct business remotely with both internal teams and sales and marketing content.
THE FINAL RESULT
We successfully provided high-quality, flexible virtual communication across the company.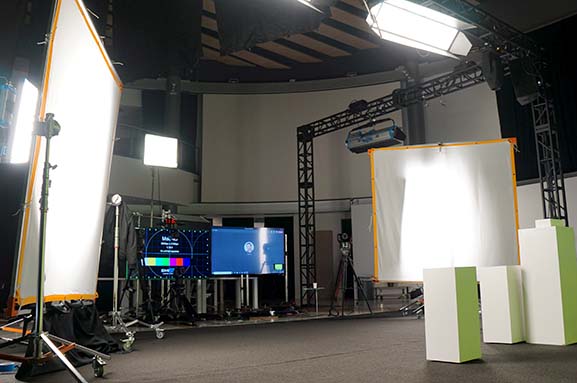 Long-Term Success
This project was originally intended to be a temporary set-up, but the high quality of the content and the wide range of capabilities has resulted in consistent use of the studio across the entire organization well past the original timeline, and plans are being made to make it permanent.
Everyday & Global Business Communication Success
The flexibility, responsiveness and global reach of pre-recorded and live-streamed content has proven to be critical for everyday operations and communications. As some events go back to in-person, the studio will continue to be used for certain events and for the creation of global business communication content.